Through my experiences with various organizations over the years, I've found myself asking: Why do people give? What motivates people to donate their money, time, resources, etc? Is it because they have a personal connection to the cause? Or because the difference they've made with their contribution makes them feel fulfilled? Obviously there are alternative, less genuine reasons to give, but let's not focus on those.
I've found that people give for a myriad of reasons, and don't get me wrong, I am thankful for their generosity no matter what their intent! However, when the drive behind their actions is genuine, it's not only effective on the task at hand, but it's scope reaches far beyond the original cause. It inspires those involved to take action themselves, growing the goodness like... like a champagne fountain. (I'll explain later)
How can I make such a claim? I've experienced the phenomenon myself. Time and time again and most recently during the past month I've found myself surrounded by some of the most passionate people I've ever met. And the passion was, undoubtedly, contagious.
I headed north mid-November for what was supposed to be a quick trip to MN, but thanks to the "champagne effect" mentioned above, "quick" turned into "not so quick" and three weeks later, I finally returned to Orlando. With no complaints, of course :)
I was invited north by my friend and firefighting hero, Jake Lafferiere (if you haven't heard of his story, Google it now) to attend The Red Tie Gala, his organization's premier annual event, The event hosted by Firefighters For Healing raises money to benefit adolescent burn survivors. Besides two minor burns involving mindless fire pit accidents in my teens, Jake, a burn survivor himself, was my only connection to the cause. However, it didn't take but stepping my foot into the door to become deeply captivated. After witnessing the fierce passion and genuine drive of everyone in attendance, I was all-in.
"Take my money!"
The Red Tie Gala was a huge success which paid tribute to past and present members of the Fire Department and raised over $150,000 to support burn survivors and their families. Never have I been to an event in which so many in attendance were there for the right reason – the cause! I encourage everyone to check out the pics from the event as well as their mission on the website here – you'll get it. I left feeling humbled, inspired, and motivated.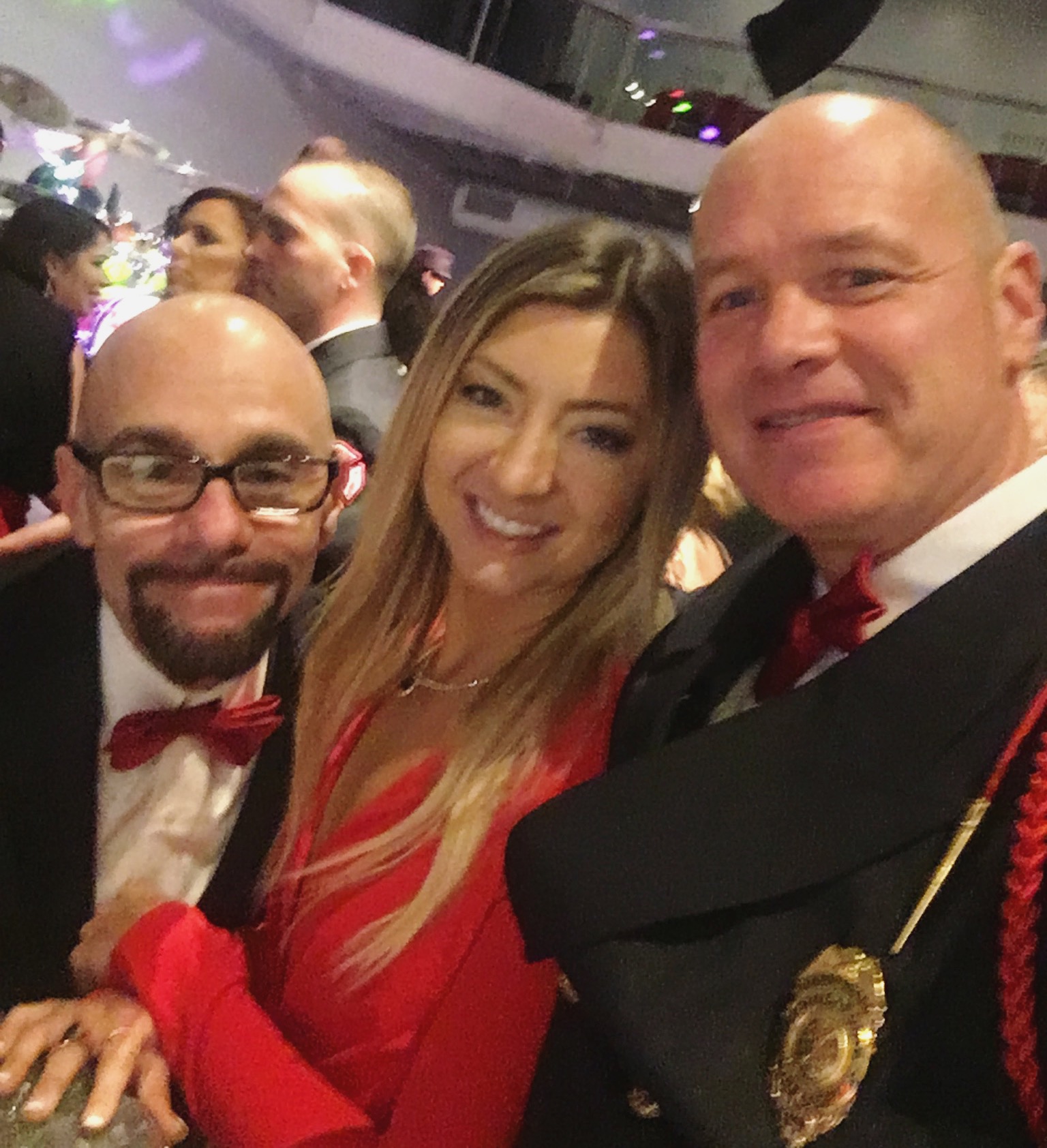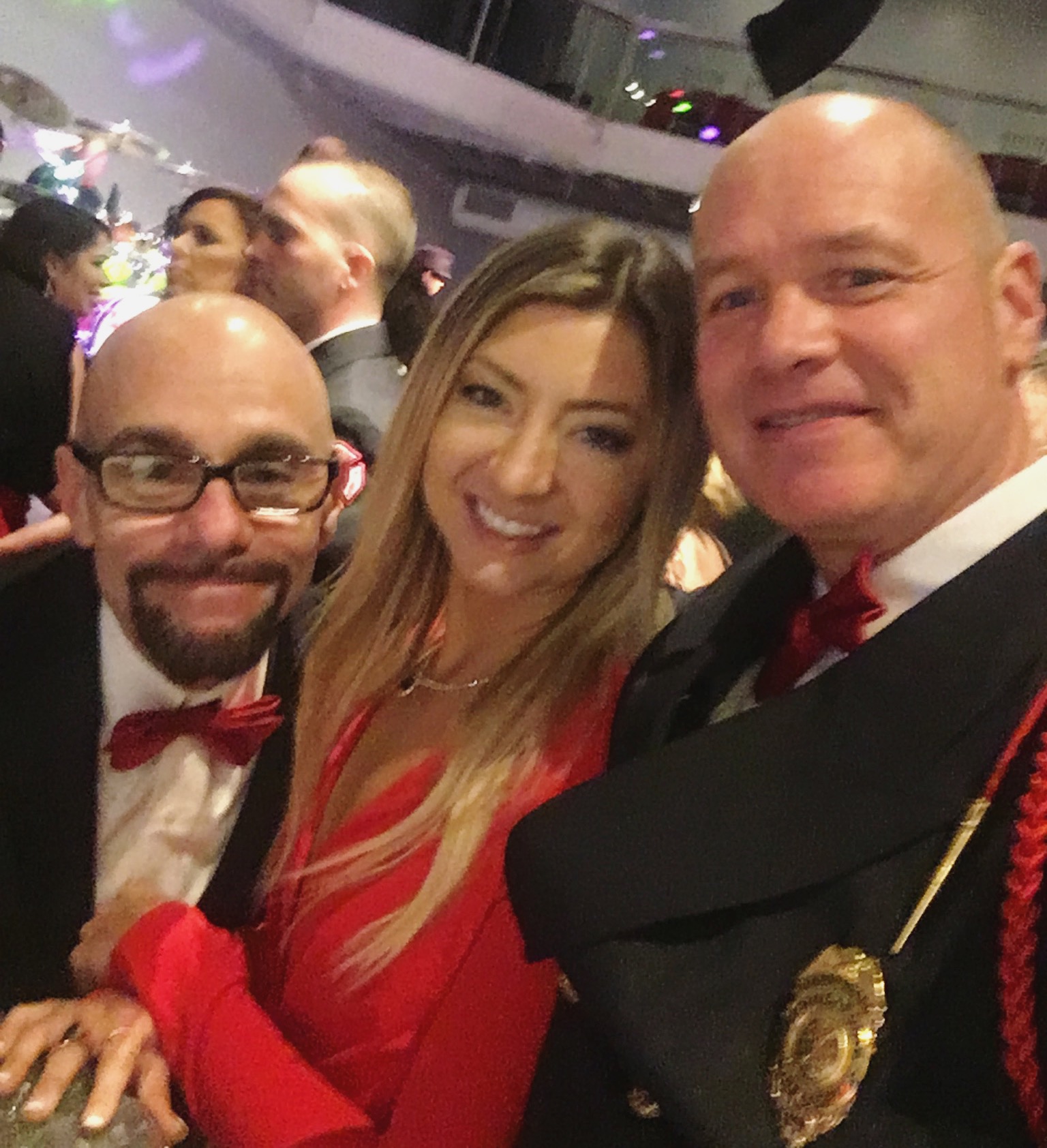 Days later, I was introduced to leaders the U of MN's Foundation which supports the Masonic Children's Hospital by dear friend and the ultimate human connector, Al Baker. As a result, I was invited to "Rudy's Thanksgiving Celebration" hosted by Kyle Rudolph and a crew of his Vikings cronies at the Hospital the following day. (See pics and video via Vikings.com here)
The Masonic hospital is truly somethin' else. Not an element was overlooked. The dark, sterile, concrete shoebox that I was set to have my bone marrow transplant in holds no comparison to the comfortable, elegant, and state of the art accommodations at the Masonic Hospital. Vaulted ceilings with floor to ceiling views of downtown along with freakishly modern technology were among its endless features.
Aside from five-star accommodations, the U of M Foundation has also gathered a great group of supporters, including the Minnesota Vikings and, specifically, tight end, Kyle Rudolph and his wife Jordan, who host multiple events throughout the year for patients and their families. It was pretty neat to see Kyle and co. give back to their community. The grins on the kiddos faces could be seen from across the Mississippi, and each of the purple giants hovering above them were kind, supportive, and grateful for the opportunity to make a difference. They were not asked to be there – they were there because they wanted to be. Their humbleness was impressive.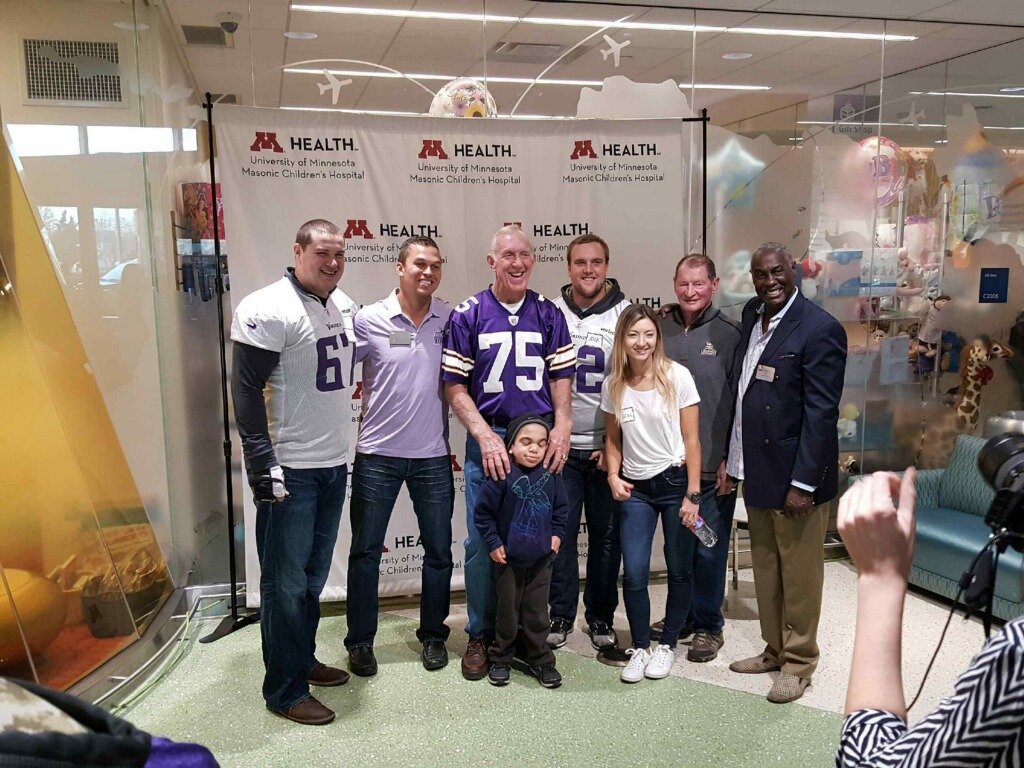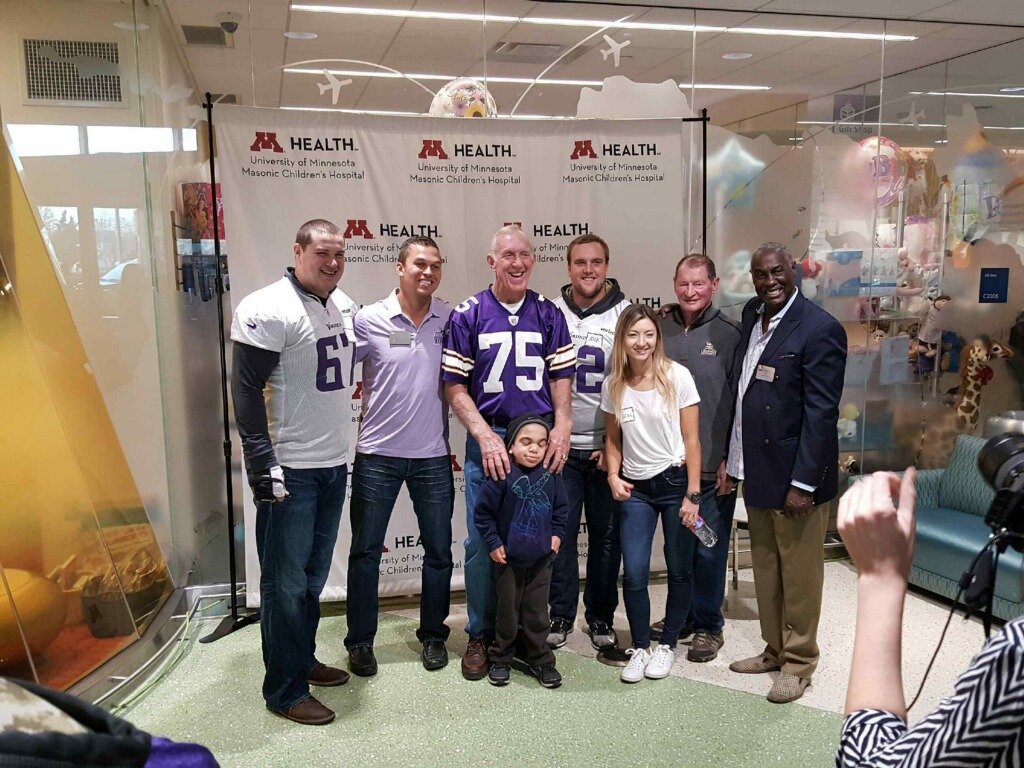 Two days later, Tiff and I were invited to attend the U of M Foundation's Fashion Fest benefitting patient programing and other resources at the Hospital. I highly suggest attending in 2017. Food, fashion, fun, dreamy celebrity waiters, and Goldy Gopher in a gold sequin tuxedo – need I say more? This event gathered a great group of Minnesota's finest, and led to support for my own cause the following week.
But before that, I made the trek west to Willmar, MN to speak at the fall WeLead meeting. The group's mission is "to empower all women to discover and maximize their unique talents one leader at a time". I spoke about my journey and what it means to me to be a "survivor", and was humbled by the people (women AND men!) of all ages and backgrounds who came together to support each other and hear my story. I've always strived to make my community proud, and their support inspires me to work even harder.
After "missing" my flight (a phenomenon that happens more often than not), next up was Thanksgiving, and yet another reason to be grateful and to GIVE. It's one of the best holidays; no frills - just turkey, pie, and gratitude.
But the giving didn't end there. After extending my trip, Tiff and I threw together a last-minute party to commemorate the 10-year anniversary of my cancer diagnosis. We gathered with about 100 guests with the intent to celebrate life and raise money and awareness for the BeTheMatch Organization* - a cause near and dear to me. Over 30 attendees enlisted themselves on the National Bone Marrow Donor Registry (sign up here!), and as a group we raised nearly $1,000 for the organization. As a result of attending Fashion Fest, Love Your Melon donated hats for purchase, and we received two fantastic silent auction items from our awesome friends including a limited-edition portrait of US Bank Stadium courtesy of Cory Merrifield and a 2016 team signed Vikings football from Kentrell Brothers. I'm so grateful for everyone's support!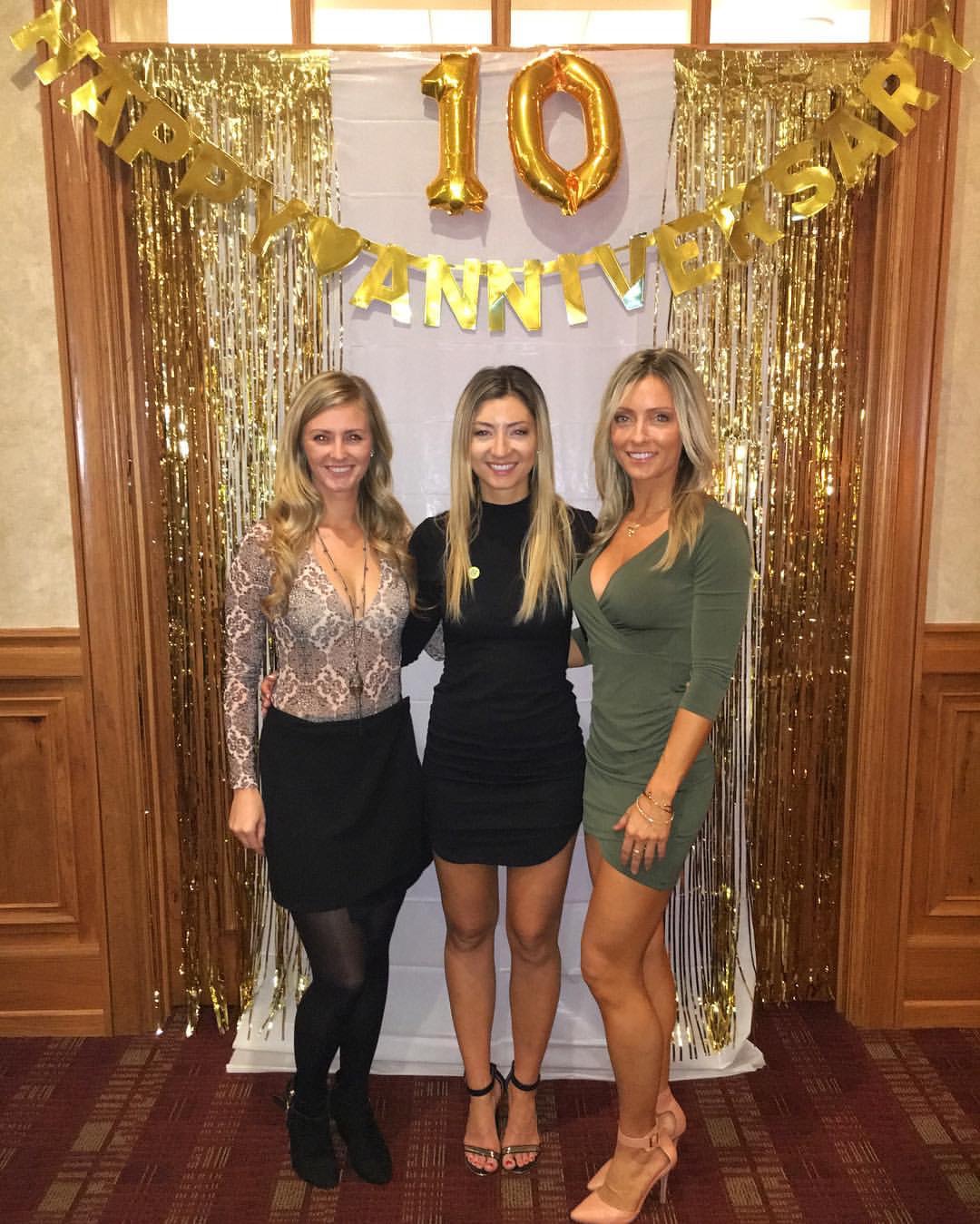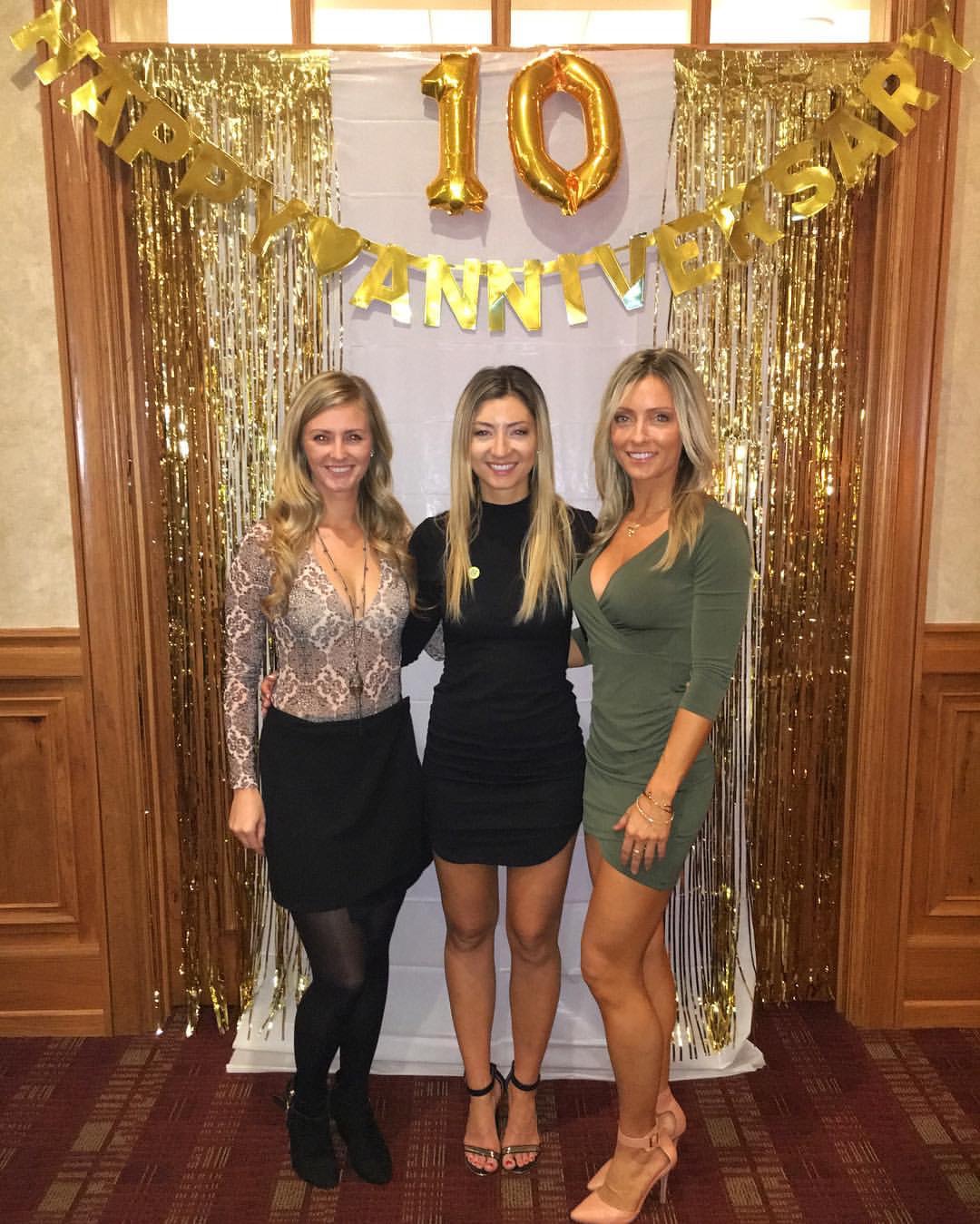 Unfortunately, the positive momentum took a turn for the worse the night of the celebration, when I learned the devastating news that close friend and fellow wakeboarder Ben Leclair had suffered a serious spinal cord injury while wakeboarding in Orlando. At the time, Ben had no sensation and was unable to move from he neck down. Having had another dear friend, Brad Smeele, paralyzed due to wakeboard injury just over a year ago, the news was a devastating blow to our sport and industry.
I returned back to Orlando just in time to attend a fundraiser for he and his family. Our small but powerful wakeboard community came together to raise a substantial amount of money to support his already compounding medical bills. Want to see a bunch of tough guy wakeboarders cry? FaceTime your injured comrade from the party and put it on the projector. You can't put a price on friendship and the feeling we all felt hearing Ben's voice for the first time since his accident.
Though his journey has just begun, I'm happy to announce Ben has made steady progress over the past two weeks moving his shoulders, feeling sensations below his neck, and was finally able to eat his first meal - banana crepes with chocolate sauce, of course. To donate to Ben and his family, please visit his Road2Recovery site
So what gives? Giving does. And in a world where many apparently "don't give a ****", it's nice to know that some people do. And those that do, have likely found that when one gives, they're not out anything. In fact, the more they give, the more they receive. It's like a giant, flowing champagne fountain - yeah that's right - continuously spilling out of one cup and filling another while never losing substance. Compassion is never ending and only increases when one is surrounded by others with good intent.
So it's time to pop bottles, people! Whether you can give time, money, or just your input, I encourage you to get involved - with ANY positive cause - and fill 'er up for yourself. After all, who doesn't like champagne?
Thank you to all who add bubbles to my overflowing cup and allow me to do the same for others.
SKOL
Alexa
PS. If anyone has additional questions about any of the causes listed above, please don't hesitate to reach out, as I would be more than happy to provide more info!